IMAGE OPTIMIZATION AND COMPRESSION
Boost your Shopify
store's SEO within a few clicks
Run Auto-Pilot to improve SEO ranking: Update Meta tags Google structured data, in a
few clicks.

SEO Audit for products, collections, blog posts, and other pages

Broken link detection and page redirection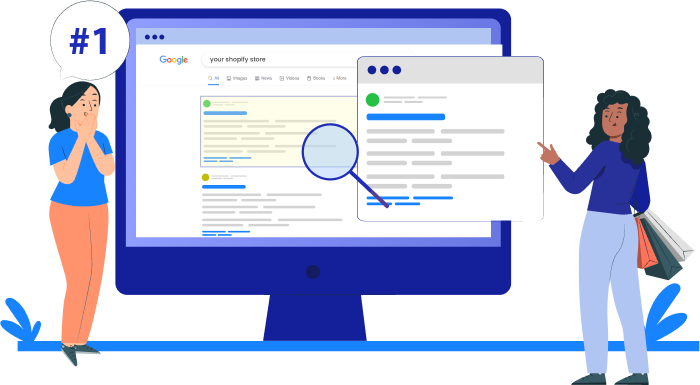 What do you get with us?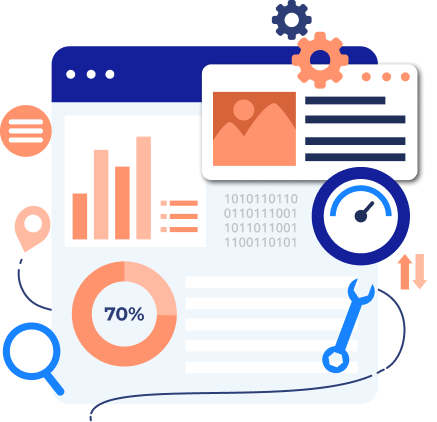 Insightful & in-depth SEO reports:

On-page SEO Enhancement Bulk and individually edit unlimited SEO factors like images, meta tags, URLs, ... to ensure the website is well-optimized.

Save countless hours on SEO resources

Technical SEO Optimization Create snippets in the manner Google recommends to get prioritized for crawling and ranking on search pages.

Keyword Research Give insights into top keywords for creating trending content and matching customers' search activities.
Why should you choose SEOmatic on other Shopify SEO apps?
No coding skills required

Intuitive interface with step-by-step advice and real-time personal assistance.

Weekly SEO Report

The weekly report showing where SEO issues are located & giving detailed guides to fix them.

Saving time & effort

One-click features at your hand to solve Meta tags, ALT Tags, and Images

24/7 Real-time support

24/7 success customer staff and experts available to back you up with technical and any SEO matters.
Are you already using some SEO apps, then?
Give it a little shot by checking your first 10 products through our app.
Install SEOmatic!
Frequently Asked Questions
No prior data or optimizations will be lost. You will receive features based on the new plan that you have enrolled in.

From large enterprises to small businesses – everyone needs SEO. Because it makes your store visible in search results, brings you free qualified traffic, and thus increases sales.

There are a number of reasons why a website isn't showing up, but most of them are related to SEO mistakes/ issues. To improve ranking you'll need to run an SEO Audit, which helps to identify and fix top SEO issues. Besides, consider adding structured data and optimizing meta tags to increase your SERP.

You'll need a tool like our app to find critical SEO errors in your store. Some of the issues that need immediate attention are: broken links, heavy and not-search-friendly images, slow page load, poor mobile experience, etc. Regular SEO Audit is the most effective way to identify and fix existing errors for a highly efficient store. Analyze every page of your Shopify store with our SEO Audit + Image compression app and never fall behind from a technical perspective.

Meta tags are considered to improve website SEO and increase click-through-rate. Missing meta tags is a missing opportunity to drive traffic and convert – as search engines are forced to create meta tags themselves, sometimes the result people see in response to their search query is disastrous, so they barely click on the website with strange or irrelevant metadata. However, you can avoid this situation simply by optimizing meta tags.

There are a few practices of writing meta tags that really work:

Do not exceed 70 characters for meta title tags and 160 for meta description.
Write unique metadata for each web page.
Insert keyword (better if it's target keyword) to meta title and meta description.
Add only relevant information about the page content to the meta description.
You can add meta tags automatically to the pages where they are missed using customizable templates.

You can use the app's suggestion to optimize meta tags according to the best SEO practices.

Yes, you can set automatic optimization of meta titles and meta descriptions for products, collections, and blog posts. For it, from app admin go to Meta tags > Customize and save templates > switch on Metadata optimization toggle.

According to Google documentation, a good PageSpeed Score is 90 and above. You should optimize page speed if it is 89 and below.