In our highly competitive world, it's important to develop all the directions for acquiring new customers and bringing more traffic to your store. Keywords are proven to be the factor search engines use for their algorithms. All SEO specialists agree that metadata and alt texts are beneficial places to add keywords. In this regard, we updated our powerful SEO app to optimize your meta tags with highly searchable keywords. 
How does an SEO app work to boost your Shopify Store's SEO?
The process of making your website visible to specific search terms that can bring the right traffic is known as SEO. Keywords are the replications of these search terms marketers add to the store's content to attract qualified traffic.
When someone searches for a specific topic, the chances to rank better in search results can be higher if your store is well-optimized for the terms.
On a regular basis, purchasers conduct about 5.8 billion online searches using different formulations. The task of sellers in this case is to cover at least the most relevant formulations by optimizing their stores with appropriate keywords. 
If doing optimization manually it can take not hours but days of tedious work. In reality, one good SEO app can take care of this and many other aspects related to website optimization. 
When looking for a good Shopify SEO app for your store, you want it to be Google-friendly, with keyword optimization, suggestions, and the ability to track trending buzzwords. We are here to help you!
How does an SEOmatic: Image, SEO Optimizer app do it all automatically for you?
SEOmatic: Image, SEO Optimizer is an SEO app that provides the functionality to find relative keywords and their variations for your store content. For example, if you're selling winter clothes, you might want to target "winter wear" so you can just type in your term and our app will provide you with lots of suggestions.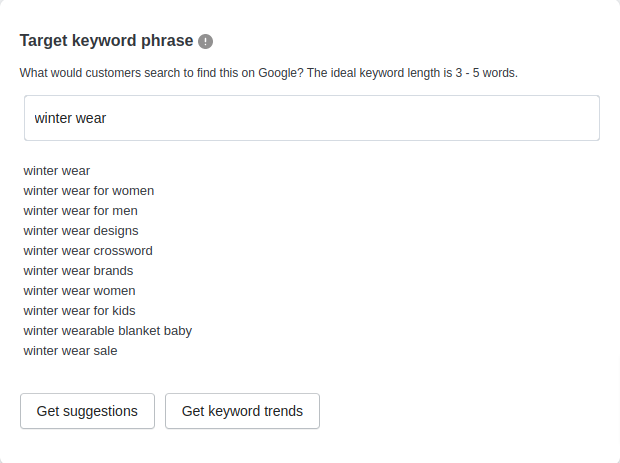 Once you click on any of the terms from the suggestions, you will immediately be alerted if that search term is present on your meta tags or not. Then you can manually edit it and optimize it. 
Additionally, SEOmatic covers 100+ countries for keyword suggestions, therefore, making it useful for the global e-commerce market. It's because people from different countries use different terms for their queries even if using the same language.
Let's take the same example - a search term "winter wear" - if we search from France, you will find the below suggestions: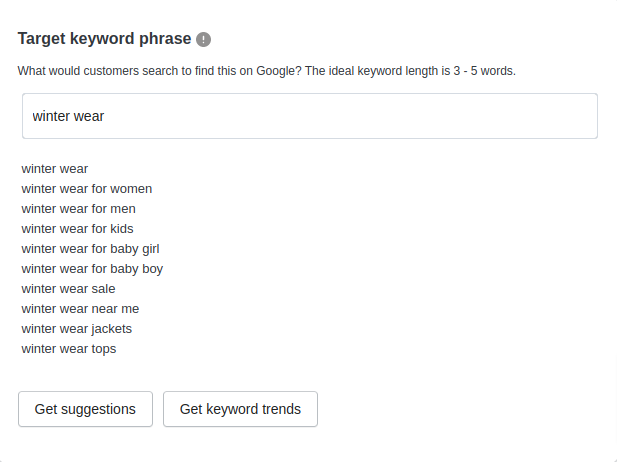 Once you type in the search terms and press enter, you will immediately be alerted if your meta tags are optimized for the term or not. You can then manually edit them or can opt for auto-pilot to optimize all your meta tags automatically for the search terms that are relevant for the complete catalog. 
Shopify SEOmatic: Image, SEO Optimizer by Aheadworks does exactly like its name: enables you to audit your store for SEO optimization, helping store owners to improve rankings in search results along with unlimited image compression (with any paid plan). 
This is a great app and with this in your store - you'll no longer have to manually enter meta tags or ALT tags for every image, product, and page, thanks to the auto-pilot feature. 
Besides, the app offers a great solution to avoid broken links by automatically scanning all pages to detect any issues and invalid web pages. Therefore, you can immediately resolve any issues and optimize all your pages in just a few clicks with no coding skills.
Key features of Shopify SEOmatic: Image, SEO Optimizer by Aheadworks:
Check and fix Shopify SEO issues regularly

Auto optimization for meta titles, descriptions, and alt tags.

Automatically detect all broken links and redirect them to relevant pages.

Update trending keywords functions based on locations.
Black Friday is almost here, so we are offering a special 25% discount for all our users. Press the button below and we will revert you with the coupon code to avail of the discount.