The importance of SEO can't be underestimated. According to statistics, about 50% of website traffic comes from organic search. However, almost 90% of content on the internet doesn't get any traffic from search engines at all. It means that the chances to acquire new customers for websites with such dead content decrease greatly. 
In any case, SEO is the long term strategy that is worth investing in. But how to improve your website's SEO performance? 
Well, you'll need to identify content weaknesses in terms of search engine algorithms and redesign your website in accordance with the best SEO practices.
Although image compression and metadata optimization contribute to improving website ranking, store owners need more deep dive and multifactorial analysis of the website content. That's why the fresh update of SEOmatic: Image, SEO Optimizer is marked with new powerful features:
Analytics Dashboard

to display detailed analytics with all issues and optimization opportunities available for your current plan.

Product SEO optimization

to ensure products appear at the top of search results, resulting in increased visibility, traffic, and ultimately higher conversion rates.

Auto-Pilot

feature allows you to automatically update your meta tags and improve search engine rankings.

Schema Markup

adds rich snippets to products, increasing visibility on Google, driving more organic traffic, and boosting revenue
The new functionality of the app creates a steady base for a well-performed and fully optimized website able to attract qualified traffic and convert visitors into buyers. Now let's see how new features work!
Analytics dashboard to improve your website's SEO performance
The analytics dashboard allows users to review the SEO performance of the website based on a number of metrics. SEOmatic: Image, SEO Optimizer dashboard consists of the following sections:
Site Health, where all critical website health issues are displayed:

The SEO Site Health Score is determined by the total number of errors and warnings discovered during the crawl of your store's first 10 product pages. A higher score indicates fewer issues, indicating better search engine optimization and improved user-friendliness of your site.

Errors graph shows the data about all the errors on the website for the last four weeks. Here you can check what kind of errors (e.g. 4xx errors, broken internal links, duplicate content, title or description, etc.) existed on the given date.

Warnings graph also reflects the warnings' analytics (e.g. images without alt, pages without description) related to the last four weeks.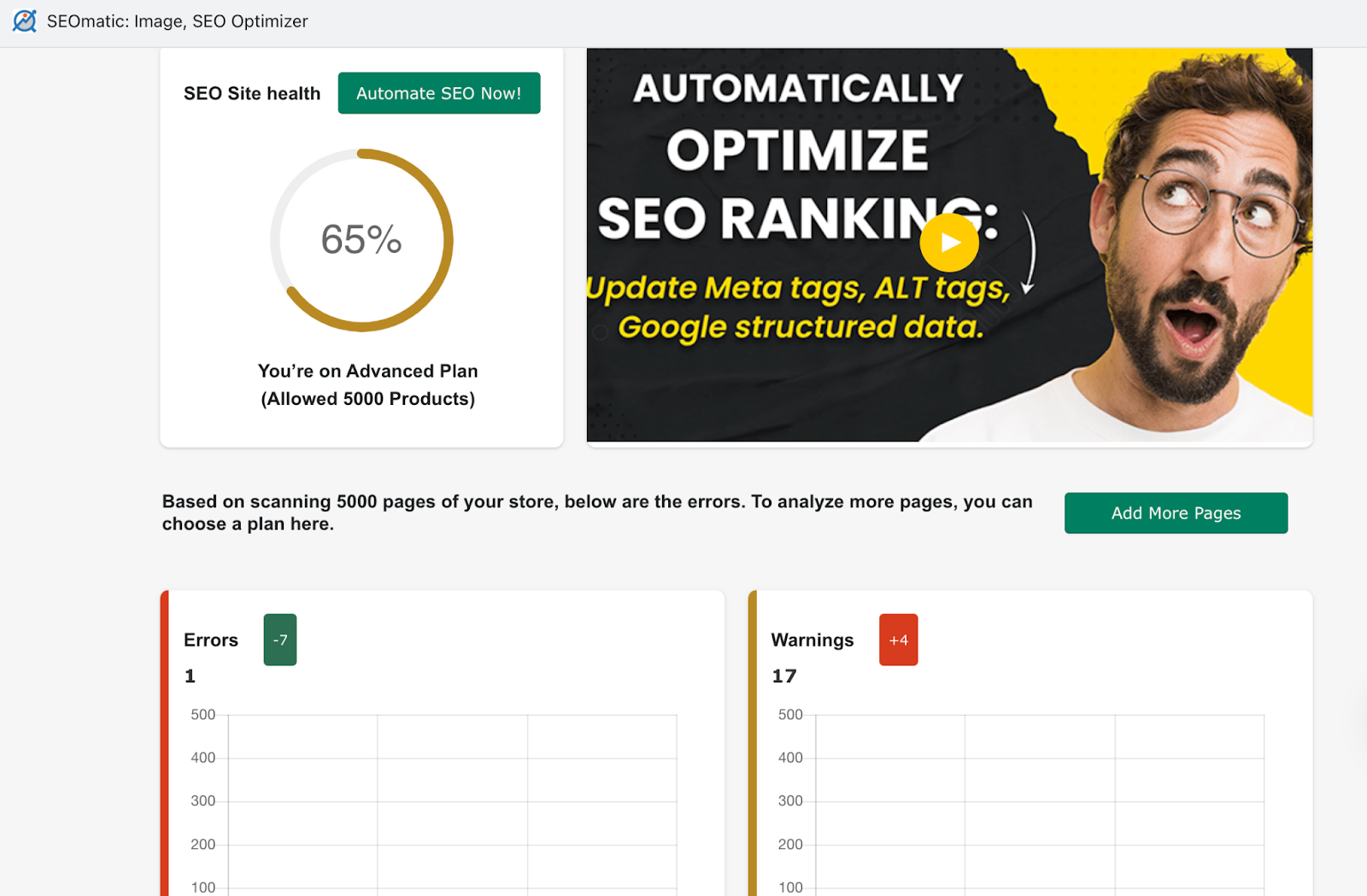 All the metrics and indicators of site health depend on the number of pages included in your plan. So if you want to see a clear picture of website performance, we recommend upgrading to the plan which covers all the pages of your Shopify store. 
Top issues

displays issues related to SEO or page speed. Here you can review the number of pages and the general percentage of issues with URLs, duplicate titles and duplicate content.

Broken Links:

SEOmatic: Image, SEO Optimizer users can

check broken links

and correct them to improve SEO.

Meta Tag Optimization

displays

how many products, collections, and blog posts are optimized with meta tags.

Image Optimization

grid provides an overview of how many images were optimized and how it affects the overall website speed.
Also, on top, you can see a static block with a request to activate Online Store 2.0. This is essential to enable some of the app's features. Activate the function once and use the app to its full potential.
Now, let's return to other new features the app gained with the latest update. One of the most powerful functionalities the app received is SEO Audit. Let's take a look at it.
An SEO audit is an analysis of web page performance in accordance with search engine optimization practices. Technical SEO audit services give a clear picture of how to improve your content from an SEO perspective and drive more traffic to it. 
A good SEO audit can reveal and fix the issues with:
Search engine optimization (including target keywords, alt text and metadata optimization);

Site speed (provides valuable insights about the concrete page speed);

Content gaps (allows users to add missed content parts to improve ranking);

User experience (checks responsiveness and overall page performance).
SEOmatic: Image, SEO Optimizer app allows running SEO audit for:
Products;

Collections;

Blog posts;

Other pages.
In this way, you can optimize any page or product on your store to attract more visitors and convert them into buyers.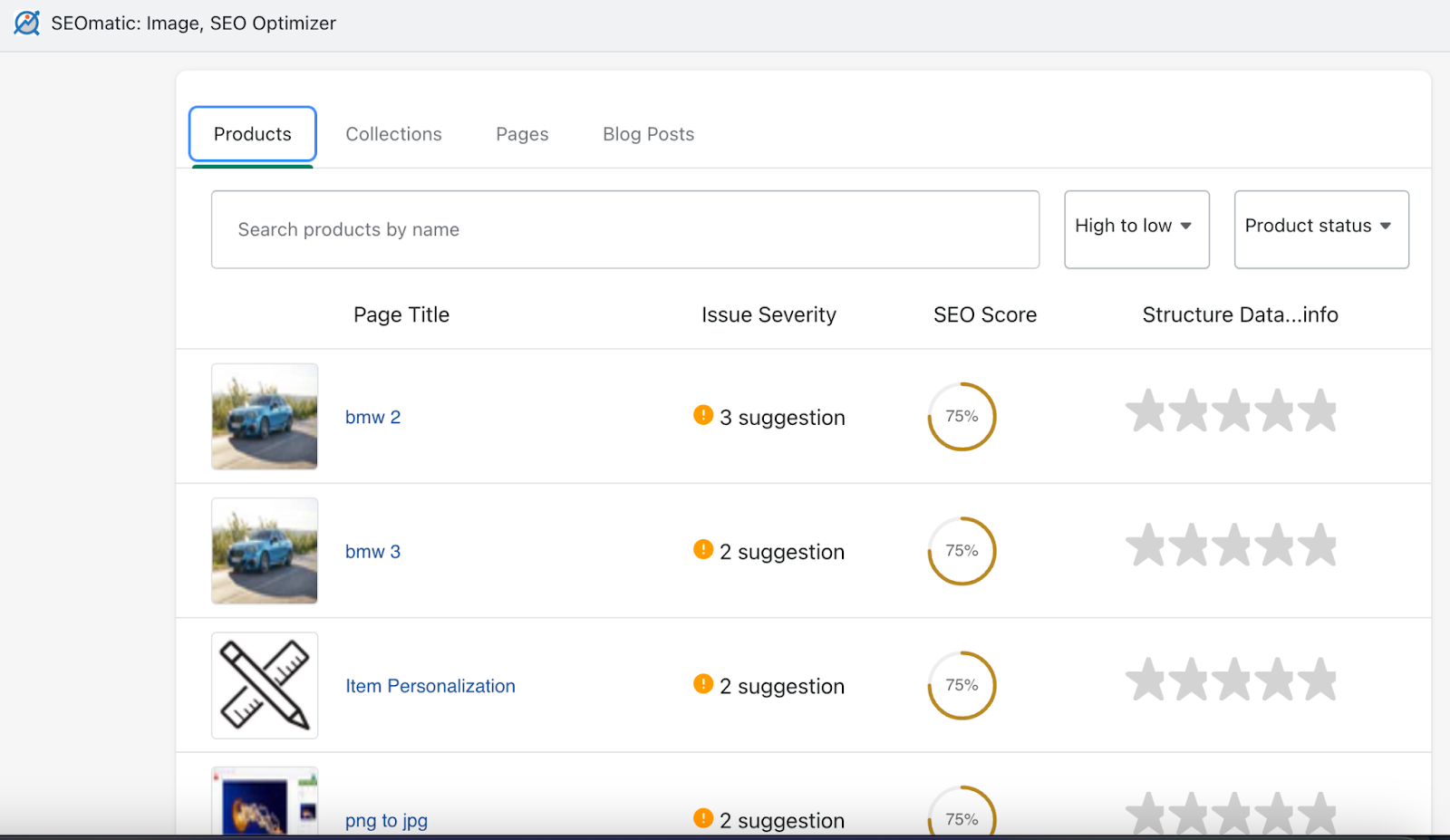 To run SEO audit, select Product SEO Optimization in the navigation menu in the app admin and choose a page you're going to examine. Right in the list of pages, you can find an SEO score for each page, so you can decide which one needs your attention more.
When you open the page, there are a few sections with important information related to SEO and page speed:
Target keyword phrase.
Here you can check and edit the target keyword for the page. Click Get suggestions/Get keyword trends or Get Suggestion AI buttons to ensure your target keyword is relevant and highly searchable. 
Top issues with this page
This section provides a comprehensive list of potential issues associated with the selected page, highlighting areas that require attention and improvement. 
Title tag and description tag
According to the best SEO practices, to bring more traffic and increase SERP, metadata should contain keywords. Besides, it's recommended not to exceed a certain number of characters for metadata – 20-70 for meta title, 50-160 for meta description – so users can easily understand from search results what is going to be discussed on the page. SEO Audit analyzes page metadata and displays useful recommendations in these sections. 
Image alt text status
Alt text helps search engine bots to read and understand the images on web pages. SEO Audit analyzes page images, reveals those with missed alt text and gives suggestions on their optimization. 
Meta fields
Here you can edit and customize page meta title and meta description and preview how they will look like in search results with preview mode.
Image alt text
The block helps to identify images without alt text or those with non-optimized alt text and make them more SEO friendly with an in-built editor.
Rich Snippet 
Activate this section to showcase star ratings for your products. This feature enhances the credibility of your products, increasing customer trust and confidence.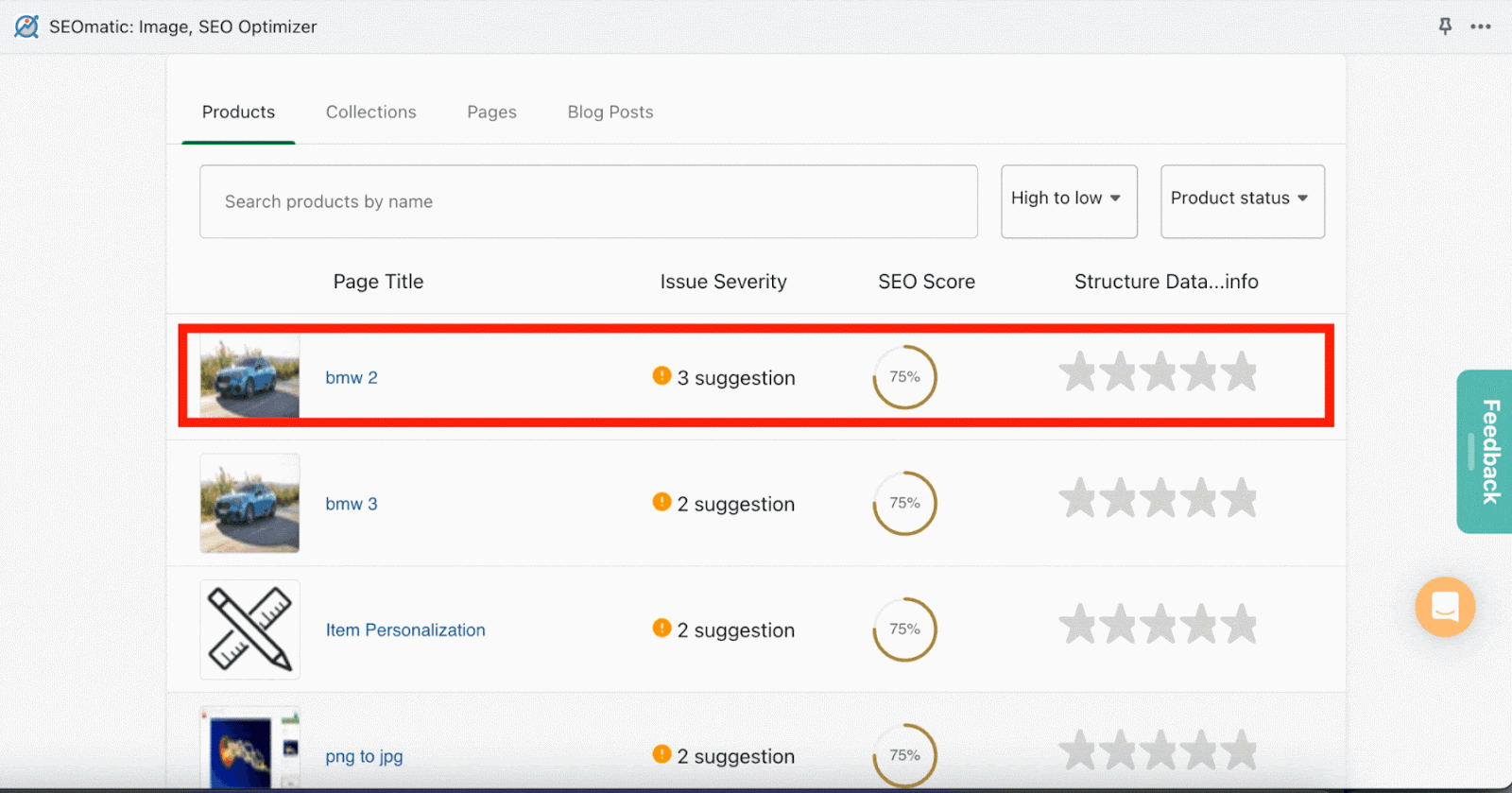 SEO audit is the best way to improve organic SEO, surpass the competition and create better conditions for outstanding customer experience.
Current SEOmatic: Image, SEO Optimizer users have a chance to examine new functionality on 10 pages. If it suits your needs, and you want to gain more valuable insights and suggestions for other website pages, you will need to upgrade your plan. 
Find new pricing here.